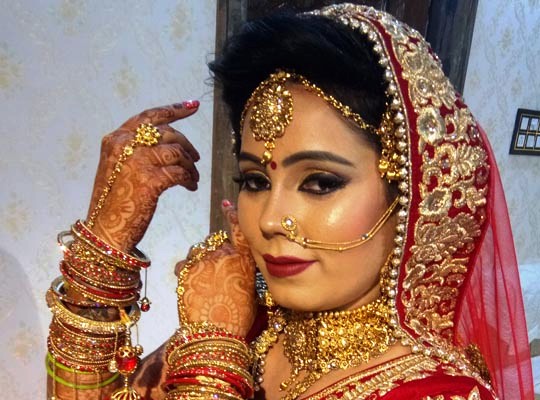 Salon in Lucknow are numerous in number and among that few salons stand apart from others in these salons Mohini Makeovers salon is finest. Among all it has many services which are liked by customers. Salon in Lucknow owned by mohini makeovers are best in the trade. Coming in particular and receiving best services in Lucknow, from manicure to pedicure to foot massage, complete torso massage and hair cutting setting and styling. So numerous facilities are there in the salon and are very liked by people who come to visit, calluses are also treated here. calluses give problem to people so they are treated here, during foot care.
Pedicure provided here helps and treats feet and nails, treats calluses etc in particular. They are well taken care of and prevents in forming different parts in so it can be performed well and without problems, many nail diseases and disorders are healed by these methods of pedicure same treatment applies to toenails instead of fingernails.mohini makeovers has best Salon In Lucknow. The souls of feet are important parts in leg and these are scrubbed with pumice stone so that concentrating of dead cells is stopped there.
Even for pedicure there are beauty treatments that provide treatment in particular area and kill the bacteria and germs there in. Manicure is done on hands and nails of hands, massaging of hands helps improve blood circulation, manicures other applications with mixes helps in growth of nails, maintain nail structure and providing good polish, saving the nail from being brittle is one of the treatment also given by salon and that makes people very happy and jolly.Salon In Lucknow owned and operated by mohini makeovers.
In the area of hair styling salon offers many chances to women, among these are many hair styling of different types as famous in fashion. Women and girls love these hair stylings as these stylings originated from the top artists work, those celebrity stylists provide the base for these types of styling. a good hair stylist has always been difficult job, but here in saloon people get best artists without any problem.
Mohini makeovers Salon in Lucknow is ready to serve customers , they have numerous new offering s and services for customers so that they can enjoy their time at mohini and get the best services in lucknow . Staring from massage , they are offering hand , face massages to full body massage , their massage is valued as they have massage experts with most amount of training available to them .
Mohini 's are also providing all the regular salon services like manicure , pedicures for great looking nails of both toes and hands , they also provide beautification products of superior quality for a great leisure experience .